With the impending release of Resident Evil: Retribution, I thought it was very appropriate to do one of my Fall Fashion Finds for 2012 posts with this theme! After all, Alice has such inspiring and uniquely practical fashion in all the films and I love her style, especially all the boots!  So, in my excitement for yet another Resident Evil and more craziness from the insane minds of the Umbrella Corporation, Here are My Fall Fashion Finds for 2012 – Inspired by Alice from the awesome films (she doesn't exist in the video games or books) :
Dr. Martens BILLIE Boots in Black – $120
Resident Evil Set of 3 Interchangable Handblown T Virus, G Virus and G Vaccine Capsule Shield Necklace; $50
Rivets Detail Knee Leggings; $29.25
Tarte NeutralEYES Volume II Natural Eye Palette; $44
BKE Lace Trim Tank Top; $11.50
Heather Gardner – Lace Fringe Cuff in Black; $138
Estée Lauder 'Pure Color – Quick Thick' Eyeliner – Punker; $21.50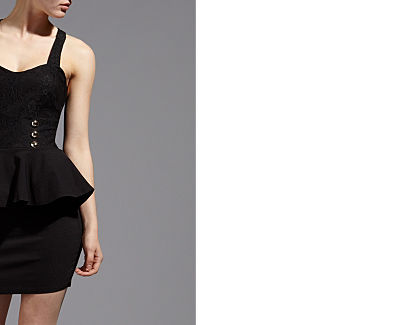 Rare  Lace Peplum Military Dress; £50.00
..And just for fun…
ZDK 1 Zombie Defense Kit; $700
Are you guys as excited to see Resident Evil:Retribution as I am?!
❤